Wholesale Florists and Other Suppliers . . . Are you REALLY prepared for the Market Recovery and Growth in 2016 and Beyond? . . . Surely you've cut costs . . . but what about your Market Positioning? . . . Are you focusing on the things that matter most to your customers? . . . Are you communicating the RIGHT messages? . . . And as the sales growth progresses . . . will you get relatively MORE or LESS sales than your key competitors?
Consider the P&P Competitive Intelligence Survey (CIS) . . . to survey florist shops (or possibly other customer groups) within your market areas . . . to ensure that you have the critical market information for maximal GAINS in your market share! Prior Prince & Prince CIS research reveals that most floral retailers are purchasing from 3 or more floral suppliers, including direct sources, on average. The Prince & Prince CIS research provides you the FULL PERSPECTIVE on your market's floral-purchasing behaviors, and the key drivers to customer satisfaction and purchasing loyalty.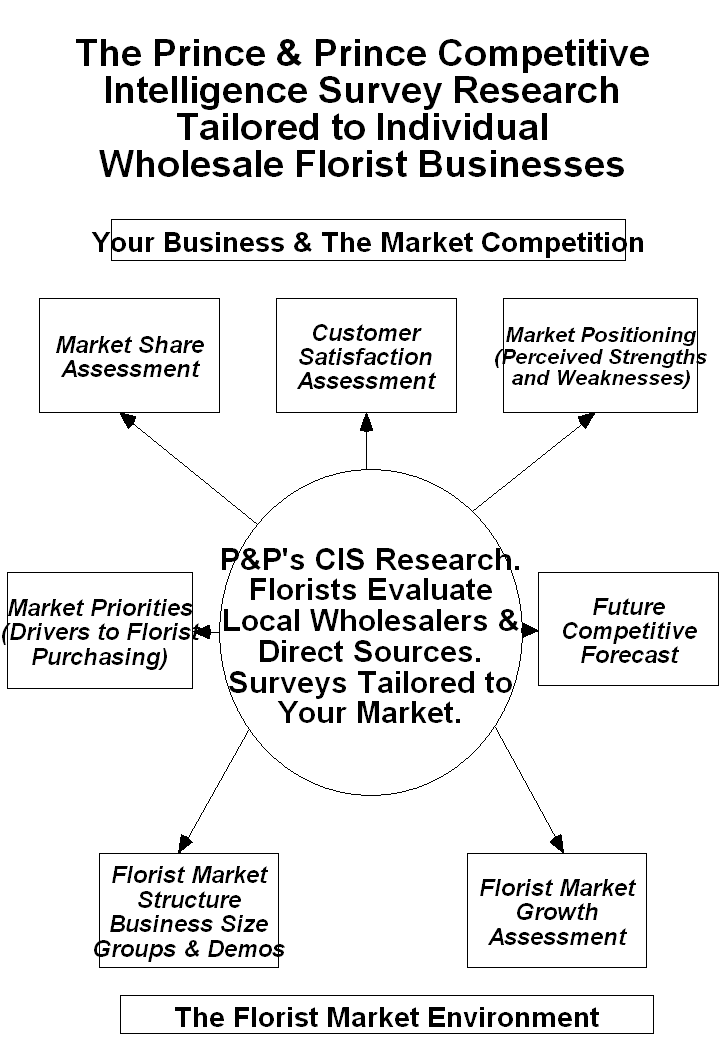 Wholesalers, Importers, and Suppliers . . . in this challenging market environment, your GROWTH is largely dependent on your gains in MARKET SHARE! . . . Let Prince & Prince survey your florist markets with the P&P CIS research program, and reveal to you the market opportunities and the keys to gaining market share.
The P&P CIS Research Program Provides You Valid & Reliable Market Data
The P&P CIS Survey is a "blinded" survey, distributed by both traditional mail, and electronic "web-based" methods, providing you the most valid & reliable market data possible. Survey respondents have no knowledge of the wholesaler or supplier in the market that is sponsoring the survey (thus reducing response bias), and the identity (business name) of the survey respondent is also anonymous (resulting in more valid reporting - - P&P only collects business characteristics of the respondents, not their particular business name). Thus, P&P surveys generate a more broad-based, unbiased survey response from the marketplace, not the biased "lovers & haters" response typical of Internet and "Web-Only"-based surveys (Most Internet-based surveys are NOT anonymous, as the respondents' e-mail or IP address is attached to the survey response. However, with P&P web surveys, the respondents' identity is NEVER associated with the survey responses.)
In addition, all the questions in the P&P CIS research have been pre-tested statistically to ensure measurement reliability. All survey questions have a certain level of "measurement error", but P&P minimizes this level of survey error with their pre-tested questions (P&P has "tossed out" the clunkers!). Simply asking questions in a survey can certainly provide one data, but the reliability of that survey information will always be in question, unless tested for measurement reliability. With the P&P CIS research program, P&P ensures their clients are provided with valid & reliable market information. You deserve nothing less from a reputable market information provider!
P&P Gets You the Market Information You Need!
The P&P CIS Research is a standardized mailed survey with limited customization to get you the market information you need at an affordable cost. The 4-page mailed survey and web-based survey is tailored to your market, assessing customer perceptions of your business and those of key NAMED competitors that also service your market. The survey assesses customer sales, sales growth, purchasing from your business and competitors (and direct sources), perceptions of your performance and that of competitors, and several "outcome" measures (customer satisfaction with wholesalers/ suppliers, loyalty buying, and customers' future intentions to buy from suppliers), and business characteristics of customers. ( Note: Although florists (or other customer groups) receive a mailed survey form, the P&P survey can also be completed on-line via a convenient P&P web link ).
From this collection of market data, P&P assesses your market share, shares of key competitors, your market positioning (product & service strengths & weaknesses) and those of competitors. P&P's unique model analyses also identify the key priorities of florists (or other customer groups) - - those factors that most drive florist satisfaction and purchasing from wholesalers/ suppliers. Thus, all of the management information provided is on a prioritized basis, allowing P&P's clients to FOCUS! . . . to capitalize on key market opportunities! . . . to leverage key market strengths! . . . and to shore-up the most important weaknesses! Overall, the P&P CIS research reveals the salient market strategies for business success, and GAINS in market share! And P&P has demonstrated PROVEN gains in floral share for clients that have utilized the the P&P CIS research to better understand their markets!
P&P presents you the CIS research information in a one-day, on-site, slide presentation, with plenty of time for questions and discussions of possible short & long-term strategies. Let P&P broaden your knowledge of the market, and assist in POSITIONING your business for maximal gains in market share . . . all with the P&P CIS research program!

Call or e-mail Prince & Prince today to request a no-obligation proposal . . . for a P&P Competitive Intelligence Survey (CIS) conducted in your market . . . for GAINS in your market share!