Prince & Prince SEMINARS
Provide your sales team a marketing advantage thru knowledge of consumer,
mass market, & retail florist trends.
The Updated Prince & Prince U.S. Consumer Floral Tracking Survey (2020 Edition) will be available as an on-site seminar format in the Fall of 2020, and will be presented with two options: 1) Full-Day On-Site Seminar Presentation, with a Q&A session, and 2) Half-Day On-Site "Highlights" Seminar Presentation. The "Seminar on Flash Drive Only" (No On-Site Presentation Nor Q&A Session) will become available later in 2021.
Perspectives on the Past! . . . and Insight to the Future!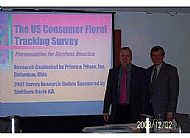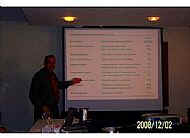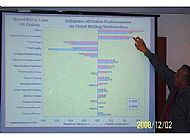 | | |
| --- | --- |
| | Prince & Prince (P&P) offers two premium, updated on-site seminars: |
1) The 2020 P&P U.S. Consumer Floral Tracking Survey. This seminar presentation tracks numerous consumer floral purchasing and floral-outlet evaluation metrics from 2010 (after the recession), to 2013 (market recovery), and to the end of 2018 (strong market). Gain a comprehensive understanding of how the US floral market is changing, and know the trending market strengths and weaknesses of the key floral channels (retail florists, supermarkets, super-discounters, wholesale clubs, home centers, on-line/ Internet providers, farmers markets, garden centers, etc.) . . . and the change in consumer perceptions toward those floral outlets over time! Know where the mass-market and retail sector of the U.S. floral industry has been, where it is now, and where it is likely headed!

2) Trends in Mass-Market Floral Buying, Operations, & Floral Sourcing (2016 Edition)
| | |
| --- | --- |
| | Energize and motivate your floral sales team with the knowledge of current consumer and mass-market floral buying behavior, and the trends in fresh cut flower and indoor potted plant purchasing. Ideal as an educational component to wholesaler open-house events, or for supplier educational programs to identify consumer household and mass-market floral purchasing trends. |
| | |
| --- | --- |
| | Throughout the colorful presentation, P&P highlights the key market trends of your particular region(s), answers questions from attendees, and discusses the implications of the trends for your particular business. |
| | |
| --- | --- |
| | Seminar discussion features the market and sales opportunities, as well as the challenges revealed in the consumer and mass-market trends. |
| | |
| --- | --- |
| | Seminars are conducted on-site at your facility - - P&P provides the computer and projection equipment - - all that is required is a large screen or light-colored wall. Each full seminar comprises a 5 to 6 hour time period, but P&P is flexible in tailoring the seminar topics to your specific interests and time availability. |
| | |
| --- | --- |
| | During the on-site seminar, if a topic is of particular interest to attendees, the presentation has the ability to "drill-down" on the supporting data, and chart the trends across 8 consumer demographic groups ( for the consumer seminar, demographics include age, income, education, region, floral budget, and household composition groups ), and for the mass-market buyer seminar, chart trends across the types of mass-market businesses (e.g. chain supermarkets, independent supermarkets, grocery/ service wholesalers, and other mass-marketers (e.g. "big box" stores) and number of stores in the chain. The presentation reveals the key mass-market segments that lead or trail the overall US trends, identifying more opportunities for your business. |
| | |
| --- | --- |
| | Prince & Prince offers the on-site seminars to individual companies, to groups of companies in a market collectively sponsoring the seminars, and to floral associations and other related groups. |
| | |
| --- | --- |
| | Companies that sponsor the seminar also receive the complete Power-Point slide presentation on flash drive, (roughly 800 slides for the consumer seminar, and over 200 slides for the mass-market floral buyer seminar). Companies may use this P&P market information for their own internal use in their business training programs. |
| | |
| --- | --- |
| | Get the most from P&P consumer and mass-market floral research programs - - schedule your P&P seminar today! |
Call or e-mail Prince & Prince for on-site seminar options and current pricing information.

Recently Released On-Site Seminar!
(Click Below for More Info on Mass-Market Floral Survey)
Trends in Mass-Market Floral Buying, Operations, and Floral Sourcing (2016 Edition)